Direct Imaging Exposure System
品質、スピード、安定性。独自技術で世界最高のシステムバランスを実現。
世界の先進ユーザーが選び続けるダイレクト露光装置、INPREX。
INPREX ? the choice of advanced users around the world ? employs our unique direct imaging exposure technology to create the finest system performance. Consistent quality, speed and stability are thus assured.

ワンタイムスキャン/ダイレクト露光
独自レーザーユニットに、先進レンズ設計技術を融合した新描画エンジンを搭載。高品位・高出力のレーザーヘッドを基板幅でライン配置することにより、ワンタイムスキャンも実現。
ヘッド間でのつなぎやズレのない高品質露光を実現します。
※1 IP-15 5000UH 当社指定条件による
One-time Scan/Direct Exposure
A new rendering engine that is integrated with advanced lens design technology is on-board our proprietary laser unit. One-time scan was also realized by arranging high quality and output laser heads in line at the board width. High quality exposure without shifting and misalignment between heads is achieved.
※1 IP-15 5000UH under our specified conditions ワイドレンジ・オートフォーカス機能
基板の反りやうねりによる高さ変化や、ビルドアップ層の微妙な凹凸に対応する当社独自開発のワイドレンジ・オートフォーカス機能を露光ヘッド毎に搭載。
露光面の高低に追従し、ピントずれが発生しません。
Wide range autofocus function
Each exposure head has our unique wide range autofocus function that deals with height variations due to warpage or undulation of the panel and the slight irregularities of the buildup layers. The focus is adjusted according to the undulation of the exposed surface without any loss of focus occurring.
アライメント・リトライ機能
マーク位置ずれや、外形寸法のばらつきによるアライメントエラー発生時も、ライン停止なしで、基板位置を自動調整し、アライメントを再実行。
リジェクトされる基板が減り生産性が向上します。
Alignment retry function
Even if an alignment error occurs due to a wrong alignment mark position,INPREX resets the panel at the suitable position of exposure stage by Autocarrier mechanics. Since this motion, so called alignment retry, can be done automatically, it decreases the number of rejects due to alignment error, thus enhances the productivity. 01
計測エラー時
(開始状態)
Measurement error
(at the intial stage)

02
基板を持ち上げて
オフセット補正
Lifts the board and
performs offset
correction

03
基板を再セット
Resets the board

04
ステージ回転で
θ補正後に計測リトライ
Corrects θ by rotating the stage retries measurement

アライメントマーク Alignment mark
オートキャリアのアーム送り(X) Feeding with the auto carrier arm(X)
露光機のステージ送り(Y) Feeding with the exposure stage(Y)
露光機のステージ回転(θ) Rotation wth the exposure stage(θ)
走査方向(計測リトライ) Scanning direction (retry of measurement)

Contact Exposure System
最上位の高生産性を誇る
コンタクト露光装置。
Contact exposure systems that have the highest level of productivity
ランニングコストの削減
Reduce running costs
LED光源
LED光源の採用により、従来の水銀ランプに比べて、光源寿命が飛躍的に延びたことで消耗品(水銀ランプ)レス・光源交換作業工数の削減・消費電力の抑制など、トータルランニングコストの大幅削減を実現しました。
LED
Adopting an LED light source extends the life of the light source remarkably compared to conventional mercury lamps, contributing to a significant reduction in total running costs, including a reduction in the use of consumables (i.e.mercury lamp), a reduced need to continually replace the light source, and a reduction in electricity consumption.
1光源2露光平行光源
上流側、下流側を1つの光源(ランプ)で兼用するため、ランニングコストに優れています。(ADEX3300P/ADEX3300PL-LED)
One Light Source Two Exposures
Collimated Light Source
Use of only one light source (lamp) for both upstream and downstream sides realizes economical running costs. (ADEX3300P/ADEX3300PL-LED)
消費電力を
大幅に抑える
Significantly reduce power consumption
ADEX3300P/ADEX3300PL-LED
高い段取り性
コピーフレームは装置手前に引き出せる構造です。
フィルムマスク自動取付機能によって、マスク交換作業がさらに容易になりました。
従来のようにフィルムマスクテープを固定する必要はありません。
また、トップ側のコピーフレームは回転することでメンテナンス性にも配慮しており、ユーザーフレンドリーな装置となっています。
High Setup Performance
The copy frame is structured so that it can be pulled out to the front of the system. The automatic film-mask mounting function makes mask replacement work easier than ever before.
The previous process of securing the film mask by tape is no longer necessary.
In addition, the top-side copy frame rotates to realize ease of maintainability, making this a user-friendly system.
高いユーザービリティー性と高機能性の両立
Combination of high usability and high functionality
ADEX2300P/ADEX1300P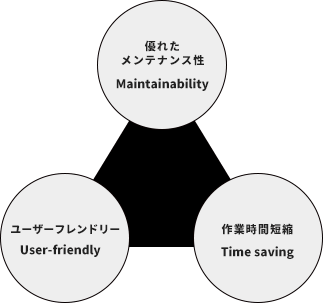 製品カタログのご請求、お問い合わせは
こちらからお問い合わせください。
Please request your product catalog
or make inquiries here.